Greeting from the Hospital Director
Chairman of Tsuyama Jifu Kai
Shigeatsu Fujiki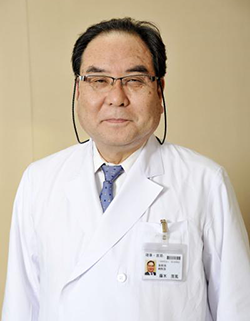 After creating our hospital philosophy ("Offer warm support to everyone in the local area" ) in 2012, everyone here at the hospital has pondered daily what "warm support" truly means. We have worked earnestly from the heart to protect the last medical stronghold in the northern area of the prefecture as a hospital that offers medical support to the area under the slogans, "Emergency care for all", "Offering the latest medical care", and "Strengthening close cooperation with local medical organizations".
 Lately, with around 5,000 ambulances bringing patients to the hospital each year, we decided to increase the size of our emergency care center (from 20 to 30 beds). We also opened a new Chemotherapy Center with 20 beds to allow patients to undergo cancer treatment in a more relaxing environment. We established a Hospitalization and Release Support Center, respite care for severely handicapped children (patients) and their families, etc., to take away any uncertainties for our patients after hospitalization and release. Slowly but surely, we've taken the answers to what "warm support" means and turned them into a reality.
 On the other hand, the global issues of declining birth rates and aging populations are beginning to have a strong effect on the northern part of Okayama prefecture. As I'm sure you know, by 2025, the baby boomer generation will be well past retirement age, with widespread population decrease (from declining birth rates) and an increase in the local population age ratio as never before experienced. In what ways can we offer localized medical care to local residents in this kind of environment? We've searched for the answer as part of our duty as a hospital offering medical support to the area.
 Through this searching, we arrived at two new themes: Further enhancements to acute medical care, and specialized cancer treatment. Specifically, we are planning on using high-level, cutting-edge medical equipment, such as minimally invasive robotic surgery (the Da Vinci Surgical System) to minimize the burden on the patent's body and hybrid operating rooms that feature CT imaging equipment for greater surgical safety and accuracy with the patient's highly-important blood vessels.
 We are also continuing our preparations for the opening of the Center for Proton Beam Therapy for Cancer in March of 2016 in cooperation with Okayama University. This will be the first proton beam therapy facility in the Chugoku and Shikoku regions of Japan, and I believe that it will become a beacon of light for patients, not only for northern Okayama, but for the entire Chugoku and Shikoku regions of Japan, as well. And as we are a core cancer care hospital, we are also planning to add a new Relief Care Ward extension for patients who are worried about or struggling with cancer. I'm looking forward to hearing the sounds of the construction site soon as we move forward with realizing our plans.
Our vision for this hospital is to construct a medical service space that will be the pride of all of Japan by 2020. We intend to tirelessly work to make this vision a reality. We all also aim to be familiar faces to everyone in the area. We look forward to all of your support and encouragement. Thank you.